LocalStorage is a data storage type that allows JavaScript sites and applications to store and access the data without any expiration date i.e we can access data anytime from the client browser, data will always be persisted and will not expire and you can access the data from the storage.
So using LocalStorage, data stored in the client browser will be available after closing the browser window, we can say that the localStorage store the data with no expiry date, and this is the advantage of LocalStorage over cookies in the browser, and available to the user even after closing the web browser. It is helpful in many ways, for example, storing the user login detail on any website.
Crud operation in JavaScript using local storage
Previously, cookies were the only option to store this type of temporary and user information, but now we can also use localStorage. One more advantage of LocalStorage is that it has a higher storage limit (5MB ) compare to cookies(4MB). and LocalStorage also does not get sent with every HTTP
localStorage Functions
<script type=

"text/javascript"

>
    function setLocalStorage() {
        

var

 users = [
            {
                

"id"

: 4037,
                

"name"

: 

"Mrs. Jagadisha Menon"

,
                

"email"

: 

"jagadisha_mrs_menon@raynor.co"

,
                

"gender"

: 

"male"

,
                

"status"

: 

"inactive"


            },
            {
                

"id"

: 4036,
                

"name"

: 

"Kannan Panicker II"

,
                

"email"

: 

"panicker_kannan_ii@powlowski-trantow.name"

,
                

"gender"

: 

"male"

,
                

"status"

: 

"inactive"


            },
            {
                

"id"

: 4035,
                

"name"

: 

"Amrit Gandhi"

,
                

"email"

: 

"gandhi_amrit@west.com"

,
                

"gender"

: 

"male"

,
                

"status"

: 

"inactive"


            }
        ]
        

//setItem method is used to save the data through key and value to localStorage.


        localStorage.setItem(

'userData'

, JSON.stringify(users));
    }

    function getLocalStorage() {
        

var

 users = JSON.parse(localStorage.getItem(

'userData'

));
        

return

 users;
    }

    function removeItemInLocalStorage() {
        

//removeItem method is used to remove the data through key from localStorage.


        localStorage.removeItem(

'userData'

);
    }

    function ClearInLocalStorage() {
         

//clear method is used to clear localStorage.


        localStorage.clear();
    }
</script>
 In this example, We are going to create a basic page where Users can see all the lists of records in a Table from localstorage with add button for adding new records in the table and localstorage , edit button for updating existing records, and a delete button to delete any existing records from localstorage data and table. and we will show discuess crud operation using local storage with es6.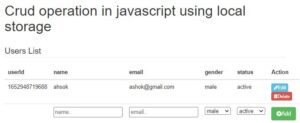 <!DOCTYPE html>
<html>
<head>
    <title>CRUD operations 

using

 JSON and local storage 

in

 JavaScript</title>
    <link rel=

"stylesheet"

 href=

"https://maxcdn.bootstrapcdn.com/bootstrap/3.4.1/css/bootstrap.min.css"

>
    <link rel=

"stylesheet"

 href=

"https://cdnjs.cloudflare.com/ajax/libs/font-awesome/4.7.0/css/font-awesome.min.css"

 />
</head>
<body>
    <div 

class

=

"container"

>
        <h1>Crud operation 

in

 javascript 

using

 local storage</h1>
        <br />
        <fieldset>
            <legend>
                Users List
            </legend>
            <table 

class

=

"table"

>
                <thead>
                    <tr>
                        <th>userId</th>
                        <th>name</th>
                        <th>email</th>
                        <th>gender</th>
                        <th>status</th>
                        <th>Action</th>
                    </tr>
                </thead>
                <tbody id=

"tblbody"

>
                </tbody>
            </table>
        </fieldset>
    </div>
</body>
</html>
<script type=

"text/javascript"

>

    bindUserData();
    function addUserDataToLocalStorage(userObj) {

        

//already has data in localstorage then update it other create new one


        

var

 users = JSON.parse(localStorage.getItem(

'userData'

));
        

if

 (users != 

null

) {
            users.push(userObj);
           
            localStorage.setItem(

'userData'

, JSON.stringify(users));
        }
        

else

 {
            

var

 userData = 

new

 Array();
            userData.push(userObj);
            localStorage.setItem(

'userData'

, JSON.stringify(userData));

        }
    }

    function updateDataToLocalStorage(userObj) {

        

var

 users = JSON.parse(localStorage.getItem(

'userData'

));
        

if

 (users != 

null

) {
            

var

 user = users.filter((x) => x.id == userObj.id).pop();
            

if

 (user != 

null

) {
                user.name = userObj.name;
                user.email = userObj.email;
                user.gender = userObj.gender;
                user.status = userObj.status;
            }
            localStorage.setItem(

'userData'

, JSON.stringify(users));
        }
    }

    function deletedataFromLocalStorage(UserId) {

        

var

 users = JSON.parse(localStorage.getItem(

'userData'

));
        

if

 (users != 

null

) {
            users.splice(users.findIndex(a => a.id === UserId), 1)
            localStorage.setItem(

'userData'

, JSON.stringify(users));
        }
    }


    function bindUserData() {
        

var

 users = JSON.parse(localStorage.getItem(

'userData'

));
        

if

 (users != 

null

) {
            document.getElementById(

'tblbody'

).innerHTML = 

""

;
            users.forEach(function (item, index) {
                debugger;
                

var

 btnEditId = 

"btnedit"

 + item.id;
                

var

 btnDeleteId = 

"btndelete"

 + item.id;
                

var

 tableRow = 

"<tr Id='"

 + item.id + 

"'   data-CustomerID='"

 + item.id + 

"'   data-name='"

 + item.name + 

"' data-email='"

 + item.email + 

"' data-gender='"

 + item.gender + 

"' data-status='"

 + item.status + 

"'>"


                    + 

"<td class='td-data'>"

 + item.id + 

"</td>"


                    + 

"<td class='td-data'>"

 + item.name + 

"</td>"


                    + 

"<td class='td-data'>"

 + item.email + 

"</td>"


                    + 

"<td class='td-data'>"

 + item.gender + 

"</td>"


                    + 

"<td class='td-data'>"

 + item.status + 

"</td>"


                    + 

"<td class='td-data'>"

 +
                    

"<button id='"

 + btnEditId + 

"' class='btn btn-info btn-xs btn-editcustomer' onclick='showEditRow("

 + item.id + 

")'><i class='fa fa-pencil' aria-hidden='true'></i>Edit</button>"

 +
                    

"<button id='"

 + btnDeleteId + 

"' class='btn btn-danger btn-xs btn-deleteCustomer' onclick='deleteRow("

 + item.id + 

")'><i class='fa fa-trash' aria-hidden='true'>Delete</button>"


                    + 

"</td>"


                    + 

"</tr>"

;
                document.getElementById(

'tblbody'

).innerHTML += tableRow;
            })
        }
        

var

 AddRow = 

"<tr>"


            + 

"<td class='td-data'></td>"


            + 

"<td class='td-data'><input type='text' id='txtname' placeholder='name..'></td>"


            + 

"<td class='td-data'><input type='email' id='txtemail' placeholder='email..'></td>"


            + 

"<td class='td-data'><select id='ddlgender'><option value='male'>male</option><option value='female'>female</option></select></td>"


            + 

"<td class='td-data'><select id='ddlstatus'><option value='active'>active</option><option value='inactive'>inactive</option></select></td>"


            + 

"<td class='td-data'>"

 + 

"<button id= 'btnaddCustomer' onclick='addUser()' class='btn btn-success'> <i class='fa fa-plus-circle' aria-hidden='true'></i>Add</button>"

 + 

"</td>"


            + 

"</tr>"

;
        document.getElementById(

'tblbody'

).innerHTML += AddRow;
    }

    function GetUserID() {
        

const

 ID = Date.now();
        

return

 ID;
    }

    function addUser() {
        

var

 userId = GetUserID();
        

var

 txtname = document.getElementById(

"txtname"

).value;
        

if

 (!txtname) {
            alert(

'Please enter name!'

)
            

return

 

false

;
        }
        

var

 email = document.getElementById(

"txtemail"

).value;
        

if

 (!email) {
            alert(

'Please enter email!'

)
            

return

 

false

;
        }
        

var

 emailfilter = /^(([^<>()\[\]\\.,;:\s@

"]+(\.[^<>()\[\]\\.,;:\s@"

]+)*)|(

".+"

))@((\[[0-9]{1,3}\.[0-9]{1,3}\.[0-9]{1,3}\.[0-9]{1,3}])|(([a-zA-Z\-0-9]+\.)+[a-zA-Z]{2,}))$/;
        

if

 (!emailfilter.test(email)) {
            alert(

'Please enter a valid email address!'

);
            

return

 

false

;
        }

        

var

 gender = document.getElementById(

"ddlgender"

).value;
        

var

 status = document.getElementById(

"ddlstatus"

).value;
        

var

 userObj = {
            

"id"

: userId,
            

"name"

: txtname,
            

"email"

: email,
            

"gender"

: gender,
            

"status"

: status
        };
        addUserDataToLocalStorage(userObj);
        document.getElementById(

'txtname'

).value = 

""

;
        document.getElementById(

'txtemail'

).value = 

""

;
        bindUserData();
    };

    function showEditRow(UserID) {
        

var

 userRow = document.getElementById(UserID); 

//this gives tr of  whose button was clicked


        

var

 trdata = userRow.querySelectorAll(

".td-data"

);
        

/*returns array of all elements with
        "row-data" class within the row with given id*/


        

var

 userID = trdata[0].innerHTML;
        

var

 userName = trdata[1].innerHTML;
        

var

 useremail = trdata[2].innerHTML;
        

var

 userGender = trdata[3].innerHTML;
        

var

 userStatus = trdata[4].innerHTML;

        trdata[0].innerHTML = 

'<input name="txtuserid"  disabled id="txtuserid" value="'

 + userID + 

'"/>'

;
        trdata[1].innerHTML = 

'<input name="txtname" id="txtname" value="'

 + userName + 

'"/>'

;
        trdata[2].innerHTML = 

'<input name="txtemail" id="txtemail" value="'

 + useremail + 

'"/>'

;
        

if

 (userGender == 

'male'

) {
            trdata[3].innerHTML = 

'<select id="ddlgender"><option value="male">male</option><option value="female">female</option></select>'

;
        }
        

else

 {
            trdata[3].innerHTML = 

'<select id="ddlgender"><option value="female">female</option><option value="male">male</option></select>'

;
        }
        

if

 (userStatus == 

'active'

) {
            trdata[4].innerHTML = 

'<select id="ddlstatus"><option value="active">active</option><option value="inactive">inactive</option></select>'

;
        }
        

else

 {
            trdata[4].innerHTML = 

'<select id="ddlstatus"><option value="inactive">inactive</option><option value="active">active</option></select>'

;
        }

        trdata[5].innerHTML =
            

"<button class='btn btn-primary btn-xs btn-updateCustomer' onclick='updateUser("

 + userID + 

")'>"

 +
            

"<i class='fa fa-pencil' aria-hidden='true'></i>Update</button>"


            + 

"<button class='btn btn-warning btn-xs btn-cancelupdate' onclick='cancel("

 + userID + 

")'><i class='fa fa-times' aria-hidden='true'></i>Cancel</button>"


            + 

"<button class='btn btn-danger btn-xs btn-deleteCustomer' onclick='deleteUser("

 + userID + 

")'>"


            + 

"<i class='fa fa-trash' aria-hidden='true'></i>Delete</button>"


    }
    function cancel(UserID) {
        debugger;
        

var

 btneditId = 

"btnedit"

 + UserID;
        

var

 btndeleteId = 

"btndelete"

 + UserID;

        

var

 CustomerRow = document.getElementById(UserID); 

//this gives tr of  whose button was clicked


        

var

 data = CustomerRow.querySelectorAll(

".td-data"

);

        

var

 name = CustomerRow.getAttribute(

"data-name"

);
        

var

 email = CustomerRow.getAttribute(

"data-email"

);
        

var

 gender = CustomerRow.getAttribute(

"data-gender"

);
        

var

 status = CustomerRow.getAttribute(

"data-status"

);

        data[0].innerHTML = UserID;
        data[1].innerHTML = name;
        data[2].innerHTML = email;
        data[3].innerHTML = gender;
        data[4].innerHTML = status;
        

var

 actionbtn = 

"<button id='"

 + btneditId + 

"' class='btn btn-info btn-xs btn-editcustomer' onclick='showEditRow("

 + UserID + 

")'><i class='fa fa-pencil' aria-hidden='true'></i>Edit</button>"

 +
            

"<button id='"

 + btndeleteId + 

"' class='btn btn-danger btn-xs btn-deleteCustomer' onclick='deleteRow("

 + UserID + 

")'><i class='fa fa-trash' aria-hidden='true'>Delete</button>"


        data[5].innerHTML = actionbtn;
    }
    function updateUser(UserID) {
        

var

 userRow = document.getElementById(UserID); 

//this gives tr of  whose button was clicked


        

var

 data = userRow.querySelectorAll(

".td-data"

);
        

var

 name = data[1].querySelector(

"#txtname"

).value;
        

var

 email = data[2].querySelector(

"#txtemail"

).value;
        

var

 gender = data[3].querySelector(

"#ddlgender"

).value;
        

var

 status = data[4].querySelector(

"#ddlstatus"

).value;
        

var

 userObj = {
            

"id"

: UserID,
            

"name"

: name,
            

"email"

: email,
            

"gender"

: gender,
            

"status"

: status
        };
        updateDataToLocalStorage(userObj);
        bindUserData();
    }
    function deleteRow(UserID) {
        deletedataFromLocalStorage(UserID);
        bindUserData();
    }
</script>



Crud operation using local storage with es6
If you are looking for ES6 syntax and then I have written syntax for ES6, you can reference from below code.
<script type=

"text/javascript"

>
    

const

 addUserDataToLocalStorage = (userObj) => {

        

//already has data in localstorage then update it other create new one


        

var

 users = JSON.parse(localStorage.getItem(

'userData'

));
        

if

 (users != 

null

) {
            users.push(userObj);
            localStorage.setItem(

'userData'

, JSON.stringify(users));
        }
        

else

 {
            

var

 userData = 

new

 Array();
            userData.push(userObj);
            localStorage.setItem(

'userData'

, JSON.stringify(userData));

        }
    }

    

const

 updateDataToLocalStorage = (userObj) => {

        

var

 users = JSON.parse(localStorage.getItem(

'userData'

));
        

if

 (users != 

null

) {
            

var

 user = users.filter((x) => x.id == userObj.id).pop();
            

if

 (user != 

null

) {
                user.name = userObj.name;
                user.email = userObj.email;
                user.gender = userObj.gender;
                user.status = userObj.status;
            }
            localStorage.setItem(

'userData'

, JSON.stringify(users));
        }
    }

    

const

 deletedataFromLocalStorage = (UserId) => {

        

var

 users = JSON.parse(localStorage.getItem(

'userData'

));
        

if

 (users != 

null

) {
            users.splice(users.findIndex(a => a.id === UserId), 1)
            localStorage.setItem(

'userData'

, JSON.stringify(users));
        }
    }
</script>
In this way, it is a superior decision now for client-side capacity. A few fundamental marks of localStorage should be noted:localStorage isn't get to store touchy information and can be gotten to utilizing any code. Along these lines, it is very unreliable.
It is a benefit of localStorage over treats that it can store a larger number of information than treats. You can store 5MB of information on the program utilizing localStorage.
localStorage stores the data just on program rather in information base. In this way the localStorage is certainly not a substitute for a server-based data set.
localStorage is coordinated, and that implies that every activity executes consistently.
The post How to leave just points without lines in ChartJS appeared first on Software Development | Programming Tutorials.