All right, guys, so today we're going to take a look at the brand new Samsung Galaxy Buds+, now these come in at 150 dollars, so they are $20 more than the original Galaxy buds.
Well, what we're gonna do today is check out some of the features, what it is you get inside the box. And if it's worth the twenty dollar difference, let's go ahead and start with the fact that if you were holding these side-by-side, it's really hard to tell a difference on the outside.
Samsung Galaxy Buds Plus Reviews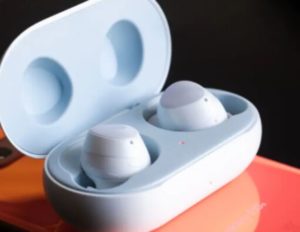 So most of the changes and hopefully most of the difference is going to be on the inside. Now, one thing that I like with the Galaxy Buds Plus is they can seamlessly pair with multiple devices. So if you happen to be connected to your tablet and you're watching a movie or listening to music or whatever and a phone call or a notification comes in on your phone, you can actually just listen to it without having to switch over to a device or disconnect and go through that process.
So that right there is really nice. Another huge difference with these is the original galaxy buds used a single dynamic driver. Now the Galaxy Buds Plus are using two way speakers. So basically you have a wolfer and a tweeter. So you have something that's handling your base, but then you're separated with something else, handling your mids and your highs. And so what that's going to do, ultimately supposed to clean up the sound a little bit and lose some of that congestion.
IPX Ratings
Well, we'll talk about that a little bit later when we talk about the same. Now, the IP rating on the Galaxy, Bud's plus is an IPX2 that is very, very low on the spectrum. So that's really for light sweating, light rain and maybe some light splashes. But these are definitely a pair. You do not want to get near water.
Now, as far as what you're getting inside the box, you are getting small, medium and large silicone ear tips, but you're also getting small, medium and large wingtips as well.
Battery Life
Now, as far as the charging cable goes, you do get a USB C cable. And the battery life is one of the huge improvements on the galaxy buds+ over the original galaxy bud because in the original ones, I think you've got around 6 hours on the earbuds individually where on the galaxy Bud's plus you're going to get 11.
Now the charging case is going to give you an additional eleven. So you're looking at around 22 hours total before you'll need to charge the case.
Now, another huge bonus with the Galaxy buds+ is , the original Galaxy Buds had a fast charge feature where a 15 minute charge would get you an hour and 40 minutes worth of use. The new Galaxy Buds + will give you an hour's worth of views simply on a three minute charge.
So that is very, very nice because some people, even though 15 minutes doesn't seem long. If you can pop your earbuds in and after three minutes get an hour's worth of views, that's very, very convenient.
Now, another nice thing about the Galaxy Buds + is they have a Wireless charging case. So you can simply just sit these on any wireless charger and they will start charging.
The case
Now, the case itself is very glossy, so it is a fingerprint magnet. But on the back you can see your USB C input for charging and then you can see your single indicator light on the front. And that will basically let you know about how much battery life is left on the case.
Now, when you open the lid to the earbuds, you can now see that there's a light on the inside. Now, this basically is just letting you know that the earbuds are charging now moving over to the earbuds themselves. this another thing, There's not a huge noticeable difference. There's a little bit more gloss on these. So I don't know if Samsung's just intentions to make these a little bit shinier, but these utilize touch controls and you can control everything.
Now, there are some things that you can do differently within the app to kind of change if you wanted to do one thing over the other.
But there's also a new feature within the app called Labs basically makes where you can even turn the edge of the earbuds to where you can control your volume. So that's allowing you to open up your controls a little bit more and add some more controls that the original ones wouldn't let you do all at once.
Some other things that you can do within the app is you can change the three different levels of ambient mode and the ambient mode on these are done much more nicer than the the original galaxy buds.
The microphones
The microphones that are on the earbuds this time around are doing a very impressive job because you have a mike on the inside and then you have to on the outside this top.
So one thing is it's doing a lot better job when you're taking calls about blocking out your outside noise, but it's also doing a better job with ambient mode and being able to hear things clearly around you.
And another thing within the lab section of the app is you can also turn the ambient mode to a high level, which really is turning your galaxy buds into hearing aids because it's channeling in the outside noise and a very loud voice. Now, this also helps whenever using the microphones for taking phone calls.
The sound
So now let's talk about the sound. Because I felt like the galaxy buds sounded very good, especially with a single dynamic driver and I was very curious, how much better this sound could be with the galaxy buds plus or if there is any difference at all.
I can say that there is a noticeable difference. I will say that to some people that might not be a good thing. And the reason for that is with now having the two way speakers, the wolfer that's handling the bass is giving a nice bass impact, but it seems to be cleaned up quite a bit.
It's not as loose and it doesn't have that rumble that a lot of bass heads like. So if you like that resonating feel with bass, you're going to get more of that with the original galaxy buds than you are with the plus.
Now, I'm not saying that the plus doesn't have bass. It definitely does, but it's more refined and a lot more cleaner this time around.
And so this is where I think there is a huge improvement. The mids and the treble have definitely been cleaned up. And again, that's because now you have a tweeter that's handling your details and keeping it away from being muffled with the bass.
So your mids are a lot more forward. There are a lot more detailed. I'm hearing things a lot cleaner in these that I didn't with the original Galaxy buds.
The treble
The treble definitely has a nice, brighter sound to it. But again, that's leaning itself towards picking up more details that the original Galaxy Buds did. So there is a noticeable difference to me in the sound. I think having that two way speaker is doing a better job of cleaning up a sound that before had a warmer tone to it.
I'm not saying it was muddy or congested, but you can definitely tell there's a much better refined sound this time around. And so now that also improves the sound stage and these sound imaging because these feel like you're in a larger room, but you have no issues picking up detail of instruments, the detail of where things are coming from. It's just a much more detailed earbud.
 Specification and Feature
| | |
| --- | --- |
| Dimensions | 1.52 x 2.75 x 1.04 inches |
| Item Weight | 4.8 ounces |
| Battery Life | 11H + 11H with Charging Case |
| Waterproof | No |
| Voice Assistant Capable | Yes |
| Bluetooth | 5.0 |
Overall
Do I think it's worth the $20 difference? Yes, easily worth the $20 difference, because the battery life, some of the features that you're getting within the app that you didn't get with the original galaxy buds.
And to me, I think the sound overall is just a much better sounding earbuds.One of the cons is I wish that the IP rating was a little bit higher than IP X 2. I would have liked to have seen maybe around an IP X 4 or 5 which kind of seems to be the standard in a lot of the bigger name earbuds. And I really would have liked to have seen maybe a little bit more bass because I think bass heads are not going to be as happy with these as they were with the original galaxy buds.
And then my other complaint is that I really think the price should have been a little bit lower.But ultimately, if you purchase these, I think you'll be very happy. Thank you so much for checking out this video. Thank you so much for checking out all the other videos. And as always, make sure to stay tuned for more.