Are you looking for sample test CSV file with dummy data to test while implementing or developing a Software?Appsloveworld allows programmers, testers, developers to download a sample CSV file with multiple records. Just click the download button and start playing with a CSV file.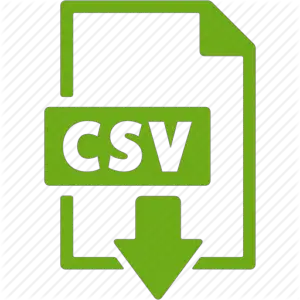 If you are a developer and you are working on import/export functionality then you can download sample CSV file from here.
Download Sample csv files
File With 100 Records(6.87kb)
Download
File With 500 Records(33kb)
Download
File With 1000 Records(70kb)
Download


File With 2000 Records(140kb)
Download
File With 5000 Records(553kb)
Download
File With 10K Records(671kb)
Download
File With 20k Records(1.27mb)
Download
What is CSV File?
CSV is a simple file format that is used to store table data, such as a spreadsheet or database.CSV File can easily be imported and exported using software that store data in tables, such as Microsoft Excel(.xls,xlsx) or OpenOffice Calc.
CSV stands for "comma-separated values". Its data fields are often separated by commas. For example, suppose you had a spreadsheet that contained the following data.
| | | |
| --- | --- | --- |
| Name | Year | Compnay |
| Jacob | 2018 | TCS |
| Rahul | 2020 | Google |
| Kim | 2006 | Microsoft |
The above data can be represented in the CSV-format file as follows:
Jacob,2018,TCS
Rahul,2020, Google
Kim,2006, Microsoft
Here, the fields of data in each row are separated with a comma and the individual rows are separated by a new line.
You can create this file in either Excel, Google Sheets or by using Notepad, you can save it with .csv extension.
Why are CSV files used?
CSV files are plain text files, making them easy for website developers.
CSV being plain text makes it easy to import data into any spreadsheet program or database.
A CSV file is a text file, so it can be created and improved using any text editor.
How to open the CSV file?
Primarily, spreadsheet programs are widely used to open CSV files. It is very easy to read them here.A spreadsheet program sorts data through columns in a CSV file. It helps to filter all the contents of the file.
If you already have OpenOffice Calc installed on your computer, a CSV file should open automatically by double-clicking.Alternatively, you can use online spreadsheet programs such as Google Sheets or Zoho Office. These tools allow more than one user to have access to a single file in real-time.You can also use Google Drive to open your CSV file.
Sample Files for Free Download